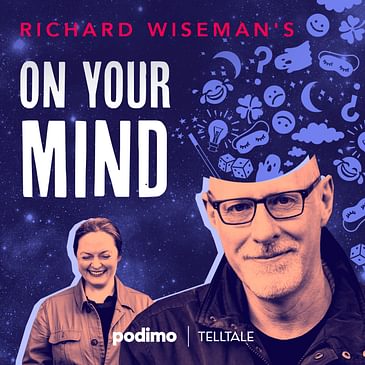 Richard Wiseman's On Your Mind

Richard Wiseman
Host

Marnie Chesterton
Co-Host
Why are some people so happy? How can you tell when politicians are lying? Why do long lists of questions hold our attention? Welcome to Richard Wiseman's On Your Mind, the podcast that aims to answer a thousand questions about the human mind. A magician, academic and author, Richard holds the UK's only professorship in the public understanding of psychology. Together with science journalist Marnie Chesterton, they take on all manner of questions from the public, celebrities and each other, on everything from ghosts to laughter, dreaming to luck, sleep to memory.
What Our Listeners Say
People don't just listen to our podcast, they LOVE it.
Apple Podcasts
Excellent
Really wonderful podcast. Very informative and entertaining.
Apple Podcasts
Total joy of a podcast! Keep going! 🤓
Total joy and really handy hints! Loved the motivation one and learnt so much on the dreams one x
Apple Podcasts
Entertaining and informative
Really enjoy this podcast. I've read a number of Richard Wiseman's books and am fascinated by the information and application to daily life. I love his sense of humor and always enjoy listening. Marnie Chesterton is a great partner for the podcast, brings a wit and charm that complements very well. I'm glad to see there is a new season starting soon!